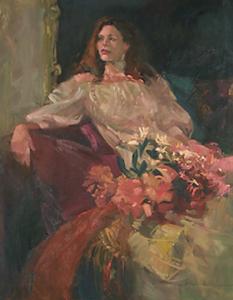 The following is from Robert Genn's Twice weekly newsletter, and the following, my response to it:


The art instinct

February 20, 2009

Dear Betty,

The reason so many people in so many cultures prefer a landscape painting to other art is that in the Pleistocene and earlier times, pastoral images were part of finding something to eat. So suggests philosophy professor Denis Dutton in The Art Instinct. While landscape art may indeed be etched into the unconscious mind as remembrance of happy hunting grounds, lots of other valuable points can be found in Dutton's widely-lauded book:

Connecting Darwin's evolutionary theory to the making and appreciating of art, Dutton says that art had its origins as a display that might lure prospective mates. He views art-making as a skill that only an extraordinary individual could perform--a person who perhaps exhibited a degree of laid-back leisure and who didn't have to expend full resources on the basics. This evolved artistic character could also be seen as taking part in casual, exploratory pursuits, the outcome of which was often unknown. Dutton's idea is that art is a kind of specialized fitness display.

Many artists have known about and reflected on this idea. I certainly did in grade five when Shirley Fulton (the one with the cute smile and the dimples) said she "liked" my painting. Even with my primitive little brain, I knew that Shirley had actually started to like me.

Whether we were cave men or school kids, we soon found out that some of us were good at one thing and not another. Grade-five sport prowess, related as it is to spear throwing, was for the bigger kids. Some of the girls went for the athletic types. Other girls in my class were attracted to Jim Bone, who had smarts in practically everything and even bedazzled Miss Ledingham, the teacher. I stuck to art prowess.

There was a kid in our class who could do magic tricks and make things disappear--like rabbits and handkerchiefs--and he was popular all right, but I noticed that my kind of magic had longer-lasting effects--particularly if I gave a girl something I had made. This sheds light on another situation that Dutton touches on and can't quite figure out: humanity's well-nigh universal distaste for forgery and copying. Even though copies have a kind of appeal for some folks, it's the genuine article--original art from the heart--that really cranks up the old endorphins, gets the oxytocin surging, and is the valued product in the well-motivated artist's display.

Best regards,

Robert

PS: "The arts, like language, emerged spontaneously and universally in similar forms across cultures, employing imaginative and intellectual capacities that had clear survival value." (Denis Dutton )

Esoterica: On the other hand, for some time I was attracted to Linda Cozlowsky, who could draw better than I could. Also, her colour sense was really exquisite. I watched Linda a lot. She didn't last. Perhaps two artists in a cave is one too many--which brings us to the territorial nature of visual artists. We are apparently unlike dancers or musical artists, for example, who are more likely to try to be in harmony with one another. Further, individualized mutation in art is related to Darwin's idea of survival of the fittest. The next time you put your work before a selection committee, consider, just for a moment, that you are also being subjected to the long-term process of natural selection.



AND MY RESPONSE:

Hi Robert, not sure if folks write back to you, after you send out your great writings, or not... But here I am...

Like you, I often looked back at my childhood, and wondered why all little kids liked art, or at least do it...and as our lives progress, many drop out of the art expression...and often forget they ever did anything with art at all.

At one point in my life, I was going to go into medical illustration, like Frank Netter...to give back to society something, for my having been here!

Then, as I studied art, and saw color for the first time in my life, and the great beauty that is there for all to see, but seldom do ... my dream shifted, to wanting to find the everyday beauty that surrounds us all, capturing it and sharing it, and by doing so, possibly help heal mankind...spiritually, and then thru that, physically! To bring beauty into people's lives, and into their souls!

I came to realize my personal journey fully, after I lost my Dad back in 1996. He was possibly my best friend, you know, someone who accepts you fully, for what you are, as much as for what you are not! Someone who never has to be proven anything to, to get their love and approval! When he was gone, I suddenly realized that I had spent my whole life trying to prove to my Mom that I was worth something! To get Mom's approval I did everything from yard work as a kid, to going and seeing them when they moved to Virginia, and yes, to pursuing my art! Cause it seemed the only time I got Mom's approval was when I did some sort of art, as a little kid.

I had always thought I chose the art field, to just satisfy my own soul! Sad, huh? BUT yet, maybe not. Cause in choosing art, I have created some nice things over the years, that may not have been, if it weren't for this great, deep need to get my Mom's approval!

And guess what... I still have never gotten my Mom's approval!! And when I realized that, this past year, it totally knocked the wind out of me! It totally robbed me of my passion! This has been the longest dry spell I have ever been, in my life!

Initially, I thought it was because I have so much gallery quality work, stacked, stored, hanging, from B&Bs to Banks, to my small home (which is more a storage unit, than a house!!!) AT PRESENT, over 400, maybe close to 500 original gallery quality paintings... Most of them are framed! Stacked just about every where!

No, I am not prolific! I just have no really good means of marketing!!! I've done the out door shows for years (took over 7 years of these to get my first sale!) Have records of being in over 20 galleries over the years, with little continued success with any one of them.

After seeing the Dolly Parton special the other night, where she decided NOT to give Elvis sole right to one of her songs) I am proud to say, I really do not like giving half my life away to galleries, who refuse to promote their artists at their expense (like they use to), yet they are willing to take half my life, to sell my work. I do believe, and have always felt, artists deserve to have better than the 50% offered to them today! Any gallery that takes 50%, that I have politely stood up to, for additional discounts off my end, have always tossed me out of their gallery. I guess, if I were Dolly, I'd be onto my road of success! BUT NOT SO! Otherwise, I would hot have the inventory of art that I do! (I hope you get a chance to view my web site, listed below).

One of my dreams, besides being a financial success before I die, is to have a gallery, and only take 30% of sales, giving the 70% back to the artist... Heck, if a gallery represents 40 artists, and gets 50% of all those lives... Is that really really fair? I think not! And my final dream, is to set up a trust for Native American children...with all that I have...but have no idea how to go about doing this!! (but that is kind of jumping the gun!!!)

ANY way, your article, seemed to hit a special fiber in me!!! You spoke of "magic" and disappearing things!

You opened a space, that not many people seem to be aware of... The magic of our young dreams!

Why we come to the spot we are, in our lives? "Hope" sometimes wears thin, sometimes it wears out!

AND more important, can we get to where, our dreams once showed us! At this point, I really don't know any more!!

O, to find my passion again! It was lonely before, but now, it is beyond lonely!!

Betty

P.S. Unlike many artists who are too proud, I have even opened a store...hoping to market my "less than-perfect" pieces...and to find people, that my web site cannot. I have worked free-lance my whole art career. Just putting the store together, has taken over 300 hours. You know, if I had been a ditch digger, I would have been retired with a pension by now!!! Not working for almost free!! Just glad I didn't know this journey would have been this difficult at the beginning, or I may not have had the courage to pursue the arts! I use to think all one had to do was "be good at it", and success would come. Well, financial "success" is a totally different animal!